The sheep hear his voice, and he calls his own sheep by name and leads them out. (John 10:3)
Chinese / English / Español / Française / Italiano / Portugues
As our Network continues its development and construction we have made contact with many LGBTI Catholic Communities worldwide. Many of them have more than 20 years since its creation or are younger than 5 years, but each of them share something: The need of a special and representative name. "It´s like your ID and it´s also related with its Charisma. It gives a name, a special color, and signs a common north. That's how you can distinguish us from other communities or collectives, each one with an identity and a meaning, but all able to converge in different ways of communion", says Anibal Neves from CaDiv (Caminhar na Diversidade / To Walk in Diversity in English).
A common trend is recognized in each particular story. Nameless, they considered that they did not have a sense of belonging or an identity, till the maturity of the group or community finally claimed for one. Brainstorming for the election usually considers to include a statement, cryptic or not, about its shared mission inside and outside the Catholic Community. Why is it important to have a name that says everything about an organisation? "At the time our group was founded a very popular and successful stage musical was running in London called the Man From La Mancha. A hit song from the musical was The Impossible Dream (The Quest). This song seemed to say so much about what these founders hoped to achieve when they got together to start a group for gay men and women.", refers Ruby Almeida from Quest.
Proposed names are usually connected with their local experiences with the Church and witnessing lives, as a group or individuals. Pretty democratic or discernment process seems to be the regular method for final election, not without major reviews (which remind us how are we part of the same church that calls for Councils). "When the name was discussed, many elements were important. One point was that the founder wanted to put emphasis on homosexual people instead of homosexuality as an issue", comments Michael Brinkschroeder from Homosexuelle und Kirche (Homosexuals and the Church). As a result, once we read the global map of LGBTI Catholic groups, we can also recognize that there are at least 3 major names categories: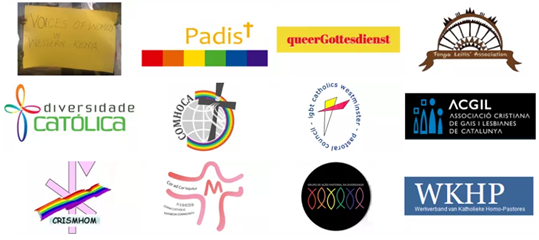 This is who we are: Comhoca (Comunidad de Homosexuales Católicos / Homosexual Catholics Community), Diversidade Catolica (Catholic Diversity) and Vowwek (Voices of Women in Western Kenya) are mostly acronym but also summarize a simple, honest and clueless reference to their origin and essence. "We must be real witness of Jesus and bring the Gospel inside the Church but also to the LGBTI collective. As well as we can´t deny the historical incomprehension and discrimination suffered by LGBTI, we can neither deny who we are", refers Oscar Manuel from Crismhom (Comunidad de Cristianos Homosexuales de Madrid / Madrid´s Homosexual Christians Community).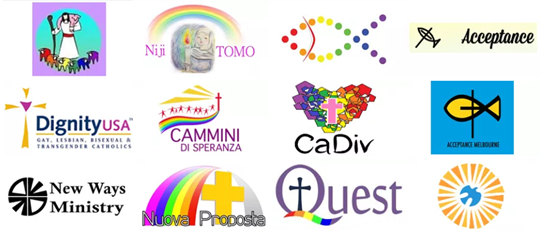 A Dream and a Vision: These communities describe their search as a constant walking inspired by Jesus itself, who moves from town to town to the meet of people. They see this journey as a process of constant and continue conversion, inside their communities, the Church and Society. "Our founders took the phrase ´New Ways´ from a pastoral letter entitled ´Sexuality: God´s Gift´ and applied it to the ministry of justice and reconciliation established in 1977", explains Francis de Bernardo from News Ways Ministry. Acceptance Sydney / Melbourne, Dignity USA, niji TOMO (Candle and Rainbow), Cammini di Speranza (Path of Hope) and Wiara i Tecza (Faith and Rainbow) are representative of this group.


Based in the Gospel and the Tradition: David et Jonathan, Efeta, Ichthys or Logos are more than easy to remind words for Christians but also they have a meaning connected with the LGBTI witnessing. "The inspiration for this name came from the Biblical text in Luke 15, 1-2; 8-10, when the woman found her lost coin and called her friends to rejoice with her. For the first members, the lost coin, the Drachma, represents those people who have been side-lined because of their sexual orientation and/or gender identity, and the eventual discovery of the joy of belonging and integration.", refers Chris Vella from Drachma.
What's the name of your community or group? Do you think its name is part of the referred examples? Meet other LGBTI pastoral care groups or associations in the GNRC Allied Groups list in our Website.