Published reading from different authors about the gifts of LGBQTI, their live experiences and the Catholic Church (different languages).
Chronicle
1st Global Forum of the People of God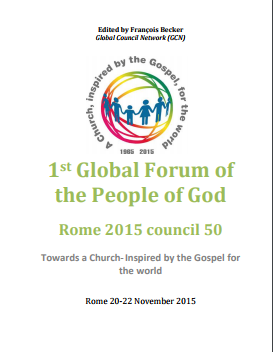 Author: Global Council Network (GCN). English / French : Overview of the preparation, the content and the follow-up of the gathering of delegates of Catholic reform groups, which came together for the "First Global Forum of the People of God. Towards a Church Inspired by the Gospel for the World". The event took place in Rome from 20 to 22 November 2015 in the frame of the Council 50 process.
Aufgehende Saat
Author: Michael Brinkschroeder. German : On 2017 HuK (Homosexuelle und Kirche), the LGBTI Ecumenical Christian group from Germany, celebrates its 40th anniversary. Stories about its history, activities and successes can be read in the book that was presented in May 2017 during the Kirchentag, a biannual church congress, in Berlin.
Christianity, Social Tolerance, and Homosexuality
Author: John Boswell. English : The historical breadth of Boswell's research (from the Greeks to Aquinas) and the variety of sources consulted make this one of the most extensive treatments of any single aspect of Western social history. The Book, still fiercely relevant today, helped form the disciplines of gay and gender studies, and it continues to illuminate the origins and operations of intolerance as a social force.
Guidebook
Creating Safe Environments for LGBT Students: A Catholic Schools Perspective
Author: Michael J Bayly. English : The book is a comprehensive training guidebook for educators who are committed to diversity and the full inclusion of LGBT students in every aspect of the Catholic high school experience. Based on five years of pilot testing in Catholic schools, this unique book emphasizes safe-staff training in integrating the Church's pastoral, social, and moral dimensions with the special needs of LGBT students.
Homosexuality: Catholic Teaching and Pastoral Practice
Author: Gerald Coleman. English : An in-depth, thorough and respectful presentation of the Catholic position on homosexuality, from a theological and pastoral perspective.
Our Children are a Gift (Original: Uliedna Rigal)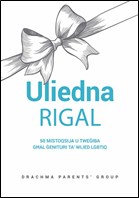 Author: Multiple Authors. Maltese (Direct Sale in Maltese Bookstores) : For the past eight years, the Drachma Parents Group had come in contact with several parents and over the years, a wealth of experiences had accumulated. Parents noted common trends and patterns in their narratives and the obvious question that most asked:how can we pass on this experience to other parents? How can we be a sign of hope?
Setting the Table: Preparing Catholic Parishes to Welcome LGBT
Author: James A. schexnayder. English : A resource for parishes which would like to explore how their communities may become safe, supportive and healing places for people whose lives, faith, and spirituality have been challenged and enriched by their sexual identity and personal integration.
Reflection
Allways our Children
Author: US Conference of Catholics Bishops. English : A Pastoral Message to Parents of Homosexual Children and Suggestions for Pastoral Ministers.
Building a Bridge
Author: Father James Martin sj. English : Martin uses the image of a two-way bridge to enable LGBT Catholics and the Church to come together in a call to end the "us" versus "them" mentality. Turning to the Catechism, he draws on the three criteria at the heart of the Christian ministry—"respect, compassion, and sensitivity"—as a model for how the Catholic Church should relate to the LGBT community.
Called to Blessing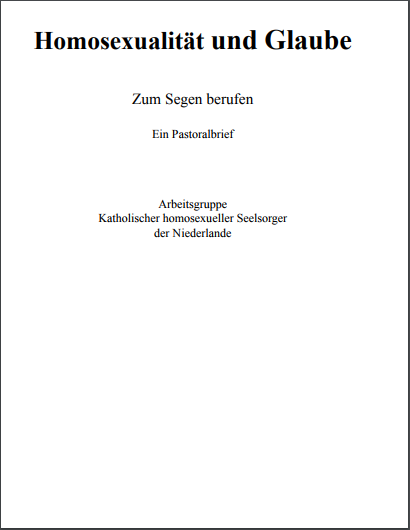 Author: Working Group pf Catholic Gay Pastors, the Netherlands. Dutch / German : The WKHP addressed you, our brothers and sisters in the Roman Catholic Church in the Netherlands, with a pastoral letter concerning faith and (homo) sexuality. We especially wished to declare that friendship, love and sexuality between people of the same sex can and may be experienced as a blessing.
Faith beyond Resentment: Fragments Catholic and Gay
Author: James Alison. English / Italian / Portuguese / Russian / Spanish : Discrimination against gays and lesbians extends from the highest echelons of the Catholic Church to the pews. For James Alison, a gay Catholic theologian, the key to moving beyond resentment is a radical re-conversion to the gospel message of God s love and understanding that even those in power are our brothers and sisters.
Homosexual Catholics: How to Get Out of the Ally (original: Homossexuais Católicos: Como sair do impasse)
Author: Claude Besson. Portugues : Is it possible to live the homosexuality and the Christian faith inside the Catholic Church? Claude Besson calls the Christian Communities and invites the Catholic Church to reopen this question to get out of the ally from an useless speech. From multiple approximations – theological, biblical, anthropological and witnessing – this book wish to help people to live their homosexuality in the Christian Faith and give a contribution for LGBTI pastoral care.
Know My Name: A Gay Liberation Theology
Author: Richard Cleaver. English : The place of gay men and women in the community of faith has become one of the most divisive debates in the church today. Writer and activist Richard Cleaver takes a fresh approach to this issue by examining the struggles of gay men and lesbians in the church through the lens of liberation theology. He offers a "gay" reading of scripture, but one that is also spiritually challenging to all readers.
Prepared to Give Blessing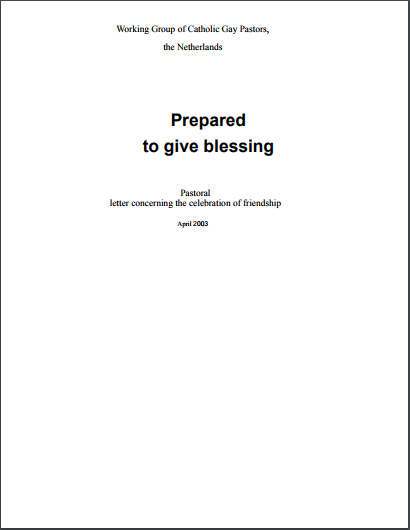 Author: Working Group pf Catholic Gay Pastors, the Netherlands. English / Dutch : In this second letter, 11 year later after after Called to Blessing (1989), we give attention to a relatively new phenomenon: the liturgical celebration of homosexual and lesbian relationships, including the blessing of these within the community of the Church.
Sexual Diversity and Catholicism
Author: Patricia Beattie. English : The Book focuses specifically on Roman Catholic magisterial teachings on sexual diversity. It also wrestles with explicitly Roman Catholic views of the relationship among various sources of moral wisdom (between Church teachings, the Bible, philosophy, science and experience) and how their interplay might contribute to the further development of Church teaching.
The Church and the Homosexual
Author: John McNeill. English : This Book was the first extended non-judgmental work about gay Catholics, a subject that had long been taboo in official church discourse. John McNeill attempts to examine and challenge the traditional church teachings on sexuality and attitudes toward gay and lesbian Catholics. The work argued for a change in Church teaching and that homosexual relationships should be judged by the same standard of heterosexual ones.
The Image They See
Author: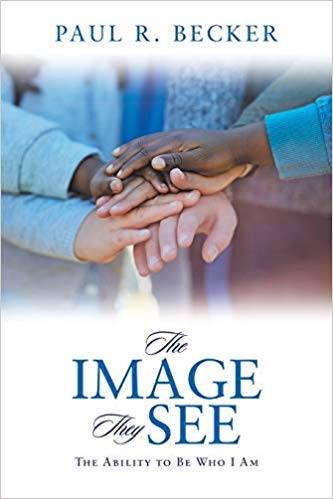 PAul Becker. English: In my vision and through brief stories, I want to inspire readers to dig into their souls and search for the true meaning of diversity. No matter how we best describe what diversity means to us in our lifetime, we have already experienced the true meaning. My expectation after reading the book is to make everyone understand how important it is to live together without hate, accept those who are different, and welcome into our lives anyone who chooses to express themselves openly. Our world is changing day by day, and it is our responsibility to take hold and change how we live.
The Vatican and Homosexuality
Author: Jeannise Gramick. English : Ever since 1968, when Paul VI surprised his Church by reaffirming Rome's prohibition of contraception, American Catholic response to papal instructions on sexual ethics has been increasingly vociferous. In The Vatican and Homosexuality , 25 Catholics respond to the "Letter to the Bishops of the Catholic Church on the Pastoral Care of Homosexual Persons," released by the Congregation for the Doctrine of the Faith in 1986 and reprinted here.
This Remarkable Gift: Being Gay and Catholic
Author: Maurice Shinnick. English : Maurice Shinnick argues that homosexuality should be seen as a gift from God, rather than a curse. He shows how attitudes to homosexuality have developed in different Christian denominations around the world and offers a careful re-reading of Catholic teaching. This Remarkable Gift calls for a genuine dialogue between the Church and gay and lesbian people and offers a guide to the paths such a dialogue could follow.
Witness
Acts of Faith, Acts of Love: Gay Catholic Autobiographies as Sacred Texts
Author: Dugan McGinley. English : The Book explores the overlap of religious and sexual identities in the stories gay men write about themselves. The autobiographical writings of forty gay Catholics (or once Catholics) are analysed. The work is both literary and theological on the premise that experience constitutes one of the four sources of theological reflection, along with scripture, tradition, and reason.
Are There Closets in Heaven?; A Catholic Father and Lesbian Daughter Share their Story
Author: Carol Curoe and Robert Curoe. English : This Book is a honest and revealing first-person dialogue between a lesbian daughter, who had always dutifully tried to please her parents, and her Catholic father, an eighty-one-year-old farmer from Iowa. Through their letters and reflections, we see how courage and love made it possible for Bob and Carol Curoe to navigate the twists and turns of such a dramatic shift in their lives.
And GOD saw it all was very good: Catholic LGBT in Europe
Author: Hazel Barnes. English : These stories are for reading silently and for reading out loud, by all people – whether religious or not, whether LGBT or not. The authors share their stories of being LGBT and Catholic to help increase awareness, understanding and acceptance of LGBT Catholics and to ease the journeys of those still working on how to live out being both LGBT and Catholic.
Fortunate Families: Catholic families with lesbian daughters and gay sons
Author: Mary Ellen lopata. English : The book had its genesis in a descriptive survey of over 200 such parents. It integrates results from the survey, church documents and stories so readers can access what they need most. Some readers will search for accurate information about Catholic teaching; others may connect with the lived experience of other Catholic parents. Still others will find examples of ministerial advocacy and support within the Catholic Church.
More than a Monologue: Sexual Diversity and the Catholic Church
Author: Christine Firer and J. Patrick Hornbeck. English : This distinctive new publication, explore sexual diversity and the Catholic Church, gathers an important set of these voices: the testimonies and reflections of Catholic and former Catholic LGBTQ (lesbian, gay, bisexual, transgender, and queer) persons, their friends, family members, and those who teach and accompany them.
Out of Silence God Has Called Me
Author: Janet Rozzano. English : A lesbian religious reflects on her experience.
Who am I to judge? (Original: ¿Quien soy Yo para Juzgar?)
Author: Carolina del Rio. Spanish : This book portrays the live experiences of LGBTI people, their parents and counselors, in one institution – the Catholic Church – who traditionally has condemned homosexuality. They describe the long path made and their quests to be loyal to Jesus Gospel. While the recognition of sexual diversity walks by in our society, the Catholic Church remains it as a pendant task.