ROME: THE FIRST LGBT CATHOLIC INTERNATIONAL MEETING TO BE HELD FROM 1ST– 4TH OCTOBER   AHEAD OF THE SYNOD ON THE FAMILY
Harmony, dignity and equality in the Catholic Church and Society
(Rome 28/09/2015) –  The first Assembly of the Global Network of Rainbow Catholics – (GNRC) will take place in Rome, 1st-4th October 2015 – on the eve of the opening of the 2015 Synod on the Family.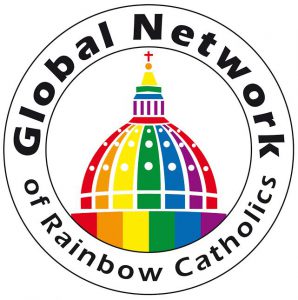 The inaugural Assembly of the GNRC brings together representatives from more than thirty countries. They will meet for the first time to inaugurate a global network of organizations and individual Catholics involved in pastoral care and in the search of social justice, inclusion and dignity for LGBT people and their families, within the Catholic Church and society in general. The four-day Assembly, with a full program of meetings, will work to initiate joint projects, mutual support and exchange of best practices, while seeking dialogue and serene engagement with the whole Catholic community and institutions.
The Global Network of Rainbow Catholics (GNRC) is an international network of organisations and people involved in the pastoral care of, and search for justice for, LGBT people and their families. By means of joint projects, support and interchange, the Network strives for the inclusion, dignity and equality of LGBT people, their parents and their families, within the Catholic Church and wider society.
Representing, as they do, a great variety of sexual orientations, gender identities and expressions, cultures, ethnicities and backgrounds, the members of GNRC are united in a common Catholic Faith which leads them to pray and work so that LGBT people may be guaranteed full and equal inclusion in all sectors of the Catholic Church, and the protection, by both civil and ecclesiastical law, of their human dignity, rights and equality of treatment may be upheld.
Rooted in the tradition of Catholic Social Justice teaching, the GNRC proposes the equal and intrinsic value of all people, independent of sexual orientation, relationship status or gender identity. GNRC members long for a Catholic Church in which ALL the people of God – LGBT and heterosexual people – can live, pray and offer their own service together in harmony.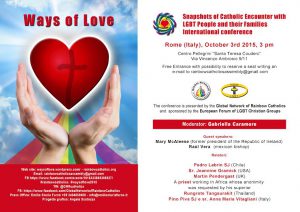 Saturday 3rd October 2015 from 15.00 until 19.00 – at the Centro Pellegrini "Santa Teresa Couderc", Via Vincenzo Ambrosio 9/11 – will take place the conference entitled "WAYS OF LOVE: Snapshots of Catholic Encounter with LGBT people and their families, sponsored by European Forum of LGBT Christian Groups.
Participants: Mary McAleese, ex president of the Republic of Ireland, interviewed by journalist Robert Mickens, director of Global Pulse, Raúl Vera OP, a Catholic Bishop from Mexico, Sr. Jeannine Gramick (USA), Pedro Labrín SJ (Chile), Martin Pendergast (UK), Pino Piva SJ (Italy), Rungrote Tangsurakit (Thailand), Sr. Anna Maria Vitagliani (Italy) and a priest who works in Africa whose anonymity has been requested by his superior. Conference spokespersons: Andrea Rubera and Martin Pendergast.
Secretariat
Rainbow Catholics Assembly
rainbowcatholicsassembly@gmail.com
rainbowcatholics.org – www.waysoflove.wordpress.com
#rainbowcatholics  #waysoflove2015
Press Office
Emilio Sturla Furnò +39 3404050400 – info@emiliosturlafurno.it