Para todos nuestros miembros, amigos y aliados, deseamos desearles una maravillosa conmemoración del Orgullo, donde sea y con quien ustedes estén para celebrar este evento único en nuestro calendario LGBTI+.
Sabemos lo difícil que ha sido para muchos de los miembros de nuestra familia GNRC este periodo de aislamiento a causa del COVID19. Algunos reportes sobre las dificultades, a causa del aislamiento e incluso un mayor rechazo por parte de la familia, la comunidad y la Iglesia han sido difíciles de soportar para muchos. Pero, como comunidad, somos resistentes individual y colectivamente.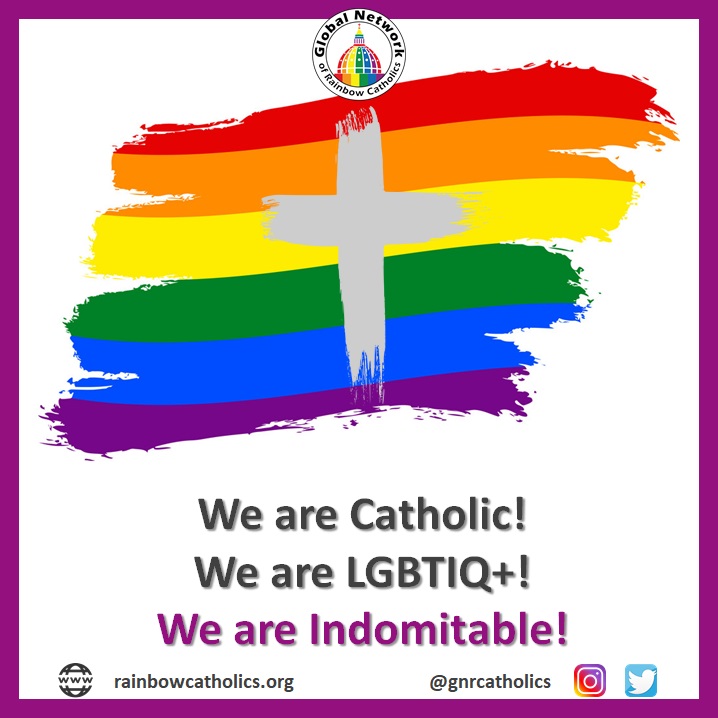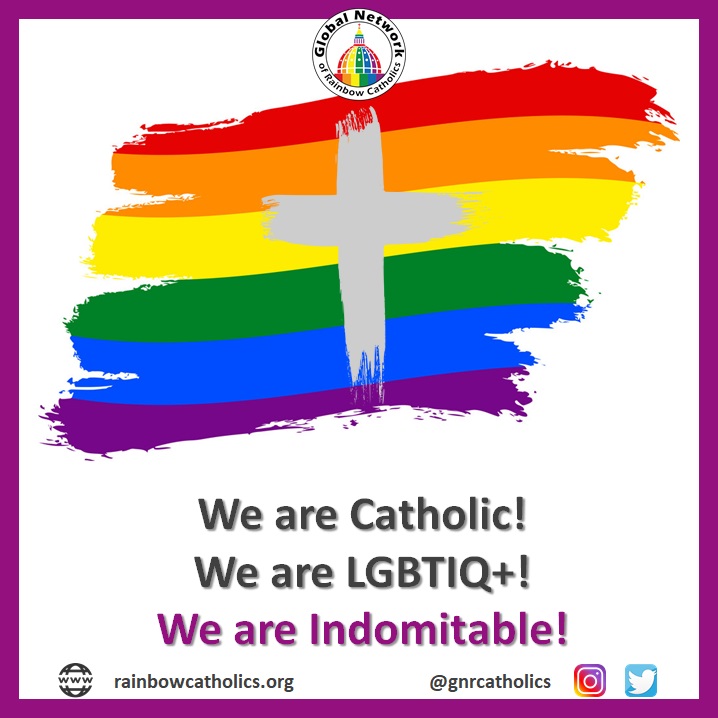 Así es que expongamos nuestros arcoíris y celebremos de una forma que nadie más puede. Lockdown cannot and will not suppress our sheer joy of being who we are.
Somos católicos Somos LGBTI + Somos indomables Estamos orgullosos. Somos amor. ¡Amén!
Poema en la Conmemoración del Orgullo
Trayectorias trazadas que han llenado de nuevos colores algunos caminos. Haciendo del paisaje un lugar diverso, de identidades, donde amarse, de tanto deseo acumulado, de un cuerpo que dice que ya puede ser y no quiere vivir intermitente. Fragilidades de tantos momentos y en la memoria, todas las luchas de tanto pasado, donde algunas se dejaron el aliento, otras, la vida.
Caminos que parecían imposibles, pero que nos atrevismo a transitar. Un tránsito vivo por romper todo aquello establecido, dibujando un universo fuera de un marco uniformado y normativo. Porque sabemos alcanzar metas. Creciendo y abriendo el paso para poder tocar el cielo, y con las palmas de tantas manos decir al mundo que desde aquí la sonrisa es grande.
Continuaremos dando tantos pasos como haga falta, y a veces, miraremos hacia atrás, para
colmarnos de orgullo por las libertades alcanzadas y los derechos coronados.
Orgullo de personas.