Ruby Almeida is Co-Chair of GNRC and a Board member representing diversity, as a woman and an Indian living in London. She was born in Jodhpur, India, in 1956, the youngest of four children to Ascension, an air force pilot, and Emma. Reared in a deeply religious family, she was both strongly Catholic and Indian from an early age. After moving to England at the age of eleven, she attended a Catholic school before embarking on a decades-long career in the media industry.
Training at the National Catholic Media and Radio Centre in North London, she produced documentaries for the Indian Space Organization and then formed her own video production company, primarily working for clients in the community sector. For several years, she worked as a Senior Lecturer at London Metropolitan University, imparting to students her passion for media while also being a source of pastoral support for her student cohort. Having left the higher education sector in 2015, Almeida now works for Landings, a program to support baptised Catholics who were once distant from their faith, but now wish to return to it.
Ruby was in her thirties when she first recognised her own same-sex attraction. In the ensuing years, she continued to practice as a Catholic, seeing no conflict between her faith and her sexuality. Indeed, she would later reflect that her "coming out" experience, which was very organic and seamless, served to strengthen, not weaken, her faith.
After her parents both passed away in 2003, Ruby underwent a period of spiritual reflection, eventually joining Quest, a pastoral support group for LGBT Catholics in the UK. At Quest, Ruby quickly transitioned into a leadership role, becoming the group's London Women's Officer before joining its national committee and serving as its Chair from 2012 to 2019. Quest's work includes providing pastoral support for LGBT Catholics and dialoguing with the Church hierarchy for the spiritual needs of LGBT faithful.
Her commitment to meet all the Bishops where Quest had a regional group proved fruitful with good relations being formed and several Diocesan Masses being held where the LGBT community, their families and friends were welcomed. Ruby was also part of the Stonewall Role Models project, advocating on behalf of LGBT teenagers who attend Catholic schools and colleges.
In 2015, Ruby traveled to Rome to attend the inaugural conference of the Global Network of Rainbow Catholics. She was elected to the GNRC Steering Committee in October 2015 and became Co-Chair of the GNRC Board in October 2017. During the Third Extraordinary Rainbow Catholics Assembly, Ruby Almeida was re-elected as the Gender Diversity representative and ratified as Co-Chair in August 2019. 
Ruby is now Convenor for Quest London. In addition to her work with GNRC and Quest, Ruby set up Bridge and Embrace, a welcoming Catholic LGBT Group in India.
Ruby Almeida on action:
Well, each year we have the most incredible demonstration of women doing their thing on International Women's Day, out there pushing the boundaries and seeking change, and celebrating change in the public space. But what about those private spaces where those closed and colonised mindsets are found in our families and our Church, how do we change that? We have those conversations with our brothers, sisters, fathers and mothers and friends. They, and we become the foot soldiers for change. (Ruby Almeida on International Women´s Day, March 2020)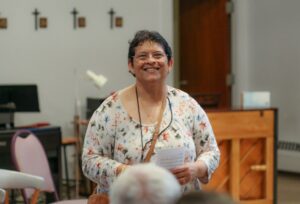 More information and sources about Ruby Almeida
LGBTIQ Religious Archives: Ruby Almeida Profile
https://questlgbti.uk/about/what-we-do/
https://questlgbti.uk/lgbt-catholic-testimony-ruby-almeida-london-india/
https://www.stonewall.org.uk/sites/default/files/lgbt_history_month_2016_-_ruby_almeida_poster.pdf

Biography Date: November 2020
Author: Jeffrey Stone with the edition and approval of Ruby Almeida