Marianne Duddy-Burke is the Board member representing North America and Secretary of the GNRC Board.  She is the Executive Director of DignityUSA, the largest and oldest organization of Catholics committed to justice, equality and full inclusion of lesbian, gay, bisexual, transgender, queer, and intersex (LGBTQI) persons in the church and society.  She has also served as the organization's President, Vice-President, and New England Regional Director, as well as President of the Boston chapter.  Marianne received a Master of Divinity degree from Weston Jesuit School of Theology in Cambridge, Massachusetts, and was an Honors graduate of Wellesley College in Wellesley, Massachusetts.
Marianne is DignityUSA's primary spokesperson and has represented the organization in countless news stories and interviews in national and international media of all kinds.  She speaks regularly at conferences throughout the United States on issues of importance to LGBTQI Catholics and their families.  She was featured in the video DignityUSA: A Conversation with Marianne Duddy, and her work has been included in several books, including, most recently, Catholic Women Confront their Church: Stories of Hurt and Hope.
Marianne took part in early discussions with members of the European Forum of LGBT Christian Groups, We Are Church, and other international Catholic networks that eventually led to the formation of GNRC.  In 2017, she served as facilitator of the official meeting of GNRC's Second Assembly in Munich, where the GNRC's Constitution was adopted and the organization was formally established as a Non-Governmental Organization registered in Italy.  In 2019, she was instrumental in bringing GNRC's Third Assembly to Chicago, in conjunction with DignityUSA's 50th anniversary national conference.
Marianne grew up in a devout Catholic family in New Jersey, where she attended Mt. St. Mary High School, run by the Sisters of Mercy.  She continued her active religious life at Wellesley and was president of the Newman Center group representing Catholic students there, until she was forced to resign because she was a lesbian.  Fortunately, she found the Boston chapter of Dignity soon after her graduation.
Marianne Duddy-Burke has over thirty-five years of non-profit and corporate leadership experience.  In addition to her many years of work for DignityUSA, she has worked in the health care, human resources consulting, and elder care fields.  She lives in Boston, Massachusetts, with her spouse, Becky Duddy-Burke, and their two adopted teenaged children, Emily and Finn.
Marianne Duddy-Burke on action: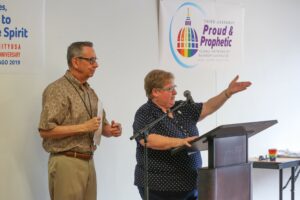 More information and sources about Marianne Duddy-Burke
'And the truth shall set you free': Dignity's Gift to the World
LGBTQ Religious Archives Network: Marianne Duddy-Burke Profile
Biography Date: November 2020
Author: Jeffrey Stone with the edition and approval of Marianne Duddy-Burke