Christopher Vella was born in 1978 in Malta into a traditional Roman Catholic family.  His education—primary, secondary and post-secondary—was all in Catholic institutions.  As a teenager and young adult, he was a member of the Society of Christian Doctrine, an organization founded in 1907 by the only Roman Catholic saint from Malta, George Preca.  Throughout his adult years he has also been active in the life of various parishes — leading youth groups, reading Scripture and helping lead the Mass.
Christopher studied history and sociology at university and became a history teacher, first at the secondary school level and now in a pre-tertiary University College associated with the University of Malta.  While his primary research has been on the history of Malta in the seventeenth and eighteenth centuries, he has recently begun research on LGBT realities there in the nineteenth and twentieth centuries.  He has been involved in the Malta Union of Teachers since 2010, currently serves as Union delegate at the University College, and represents the Union at European meetings of the European Education Trade Union (ETUCE) for Higher Education.  He is also Secretary of the Malta Historical Society.
In 2015, Christopher attended the inaugural conference of the Global Network of Rainbow Catholics in Rome and was elected to the group's Steering Committee.  Over the next two years, he worked with the committee to create the framework and legal foundation of the GNRC.  In 2017, GNRC was established in Munich as an official Non-Governmental Organization registered in Italy.  Christopher was elected to the GNRC's first board of directors there, and together with Ruby Almeida as Co-Chair, he has continued to work diligently toward the growth of the organization. 
The Maltese government adopted civil unions in April 2014 and legal same-sex marriage in July 2017.  Christopher Vella and his husband, Tyrone Grima, were married in a civil ceremony in April 2018.
Christopher Vella on action:
"It is a positive step in the right direction that Pope Francis has made comments that support the legalisation of civil unions for same sex couples. It is, to some extent, ground-breaking, considering that the Church still considers homosexuality to be an 'intrinsic disorder' and has ruled out so far, any form of recognition of same-sex relationships." (Christopher Vella about Pope Francis' recent comments in support of same-gender unions, 2020)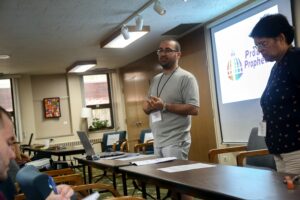 More information and sources about Christopher Vella
LGBTQ Religious Archives Network: Christopher Vella Profile
Biography Date: November 2020
Author: Jeffrey Stone with the edition and approval of Christopher Vella