Eva Callueng is the Board member representing Asia-Pacific, and the Chair of the Prophecy and Justice Committee and active member of the Womyn's Embrace Committee.  She is also the founding Chair of Rainbow Catholics Philippines, which she was inspired to register after attending the Second Assembly of the GNRC in Munich, Germany, in 2017.  She is currently the Chair of the Department of Professional Education in the College of Education of the University of the East in Manila.
Eva graduated from the University of the Philippines with a doctorate in the History and Philosophy of Education.  Her dissertation is entitled "The Philosophical Framework of LGBT-inclusive education."  She received her master's degree in Philosophy of Education and her bachelor's degree in Philosophy from the same university, where she served as the first lesbian Punong Babaylan  (President) of UP Babaylan.  UP Babaylan is the first duly-recognized student organization comprised of LGBT students in the Philippines.  It was founded in 1992 as a support group for the marginalized LGBT students in the University.
From 2003 to 2007, Eva served on the Executive Committee of Task Force Pride Philippines, a network of LGBT groups, individuals, and allies.  It is the official organizing network of the annual Metro Manila Pride March.  Currently, she is also a Board member of Babaylanes, Inc., the organization of UP Babaylan Alumni that advocates for the creation of LGBT organizations in different schools nationwide.
From 2009 to 2016, she served as the editor of Pinoy LGBT Channel of the Philippine Online Chronicles.  Also, in 2014, she served as editor of the book Buhay Bahaghari: The Filipino LGBT Chronicles, the first LGBT anthology in the Philippines published by the University of the Philippines Center for Women Studies (UP CWS).
Eva Callueng also serves as a lector-commentator in her parish.
Eva Callueng on action: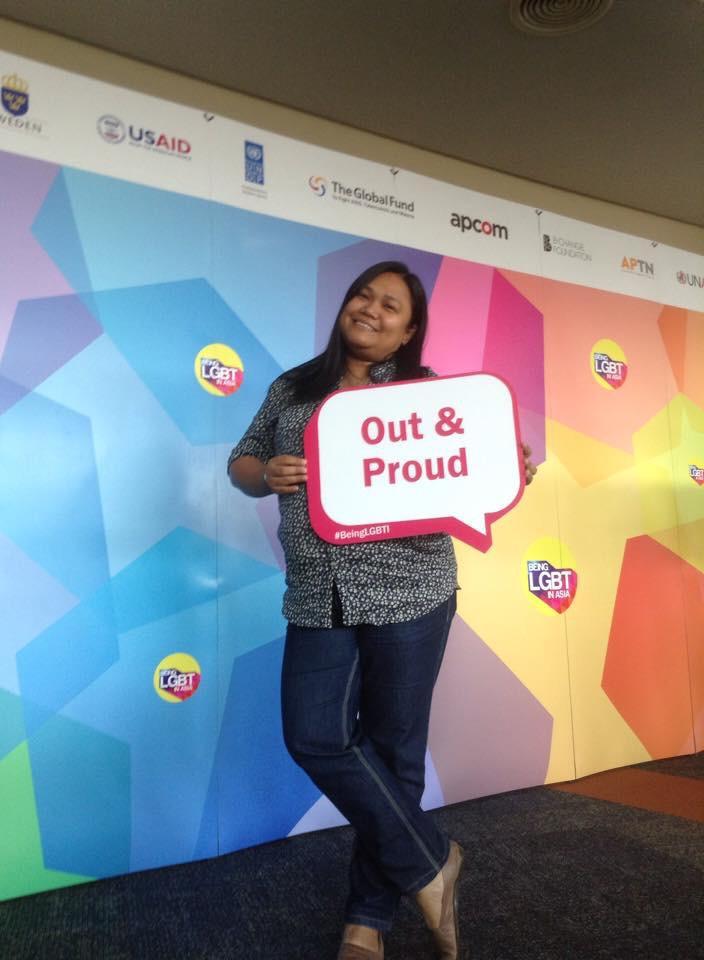 More information and sources about Eva Callueng
LGBTQ Religious Archives Network: Eva Callueng Profile
GNRC Justice and Prophecy Committee Official: Eva Callueng
To get more info and images of Eva Callueng work, click on the following link.
Biography Date: November 2020
Author: Jeffrey Stone with the edition and approval of Eva Callueng