Cris Serra was born in Rio de Janeiro, Brazil, in 1974. In 2008, she arrived at Diversidade Católica ("Catholic Diversity"), the first Brazilian Catholic LGBTQI+ group, which had been recently created, in the year before. For six years, she moderated the group's blog and social media and helped organize the public events they promoted. One of them was a one-day conference that took place during WYD 2013 in Rio de Janeiro – which was also attended by the Equally Blessed coalition's pilgrims coming from the USA.
The next year, Cris helped organize another one-day conference, the 1st National Meeting of LGBT Catholics, again in Rio de Janeiro. The meeting brought together members of three already existing Brazilian LGBTQI+ Catholic groups, plus four other new groups. The participants joined forces to create a national network, the Rede Nacional de Grupos Católicos LGBT ("National Network of LGBT Catholic Groups").
In 2017, Cris joined the committee organizing the 2nd National Meeting of LGBTI+ Catholics. The meeting was to take place in the city of São Paulo in June 2018, bringing together representatives of now fifteen existing Brazilian Catholic LGBTQI+ groups, plus the founders of two other groups that would arise soon after. At that meeting, the Rede Nacional de Grupos Católicos LGBT gained its constitution and a seven-member coordination team.
On that occasion, Cris was elected to that Rede Nacional's first coordination team, as both the Brazilian Southeast's representative and national coordinator, for the 2018-2020 term. The 3rd National Meeting had originally been scheduled for June 2020. However, due to the COVID-19 pandemic, the network's then 22 member communities decided to postpone it to November 2021 and to extend that coordination team's term until then.
As a member of the Rede Nacional's first coordination team, Cris has collaborated with several projects, which include the creation of the network's website. With two fellow coordinators, she edited an e-book entitled "Testemunhos da Diversidade" ("Testimonies of Diversity") with a collection of "stories of love, faith and communion" by members of the communities that make up the Rede Nacional de Grupos Católicos LGBT. She also helped create Núcleo Madalenas, a group aiming to address the issue of gender diversity in the network through attention to LBQ women and non-binary people.
As a non-binary Latin American person, in December 2020 Cris joined the GNRC Board as Diversity Representative.
Cris Serra worked as a translator from 1996 to 2014 and has worked as a clinical psychologist since 2004. In 2015, she began researching gender and religion with an anthropological approach. Her master's research gave rise to a book on the strategies used by the LGBTQI+ Brazilian Catholic groups to stay in the Church, published in 2019. Now, for her doctorate, she is researching the Brazilian movements of LGBTQI + Christians and Christian feminists, in the context of the rise of an extreme right government and the intensification of a moral crusade against the so-called "gender ideology" and human rights in general.
Cris Serra on action:
"The pierced Heart of Christ, surrounded and wounded by the crown of thorns, invites us to be in the world, like Christ, also with our hearts pierced by the pain of our sisters and brothers; and, like Christ, with our hearts on fire with a Love that calls us to responsibility and work and care for our sisters and brothers. The Sacred Heart calls us to commitment and to let ourselves be guided by this fire of Love in our decisions, in the certainty that the heart that was broken on the Cross "continues to beat, already resurrected"" (Cris Serra, The Feast of Pierced Heart of Chris)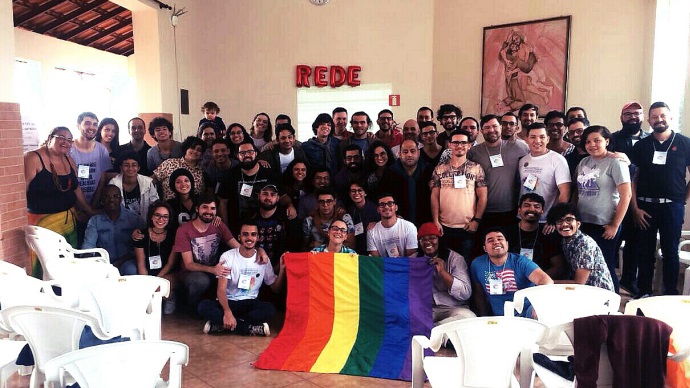 More information and sources about Cris Serra
LGBT+ Catholics from Latin America gather to remind that "when Pentecost day came round, they had all met together"
Cris Serra interview about the CDF Responsum (March, 2021) on YouTube
Biography Date: November 2020
Author: Jeffrey Stone with the edition and approval of Cris Serra